INVESTimate® Navigation Overview
Brought to you by Advantage Asset Management – A Houston Property Management Company
Overall the INVESTimate® platform is fairly intuitive to navigate. Nonetheless, we wanted to make sure you had a good guide to walk you through the various menus and options available. This tutorial will not get into the definitions of terms or how to understand the financial information presented on individual properties. For more on that, please refer to our "Financials Tutorial" resource (located on our website under Resources > Articles).
Signing Up and Logging In
The first step is getting onto the platform. We have made 3 very easy ways to get on:
The "Look for Investment Properties"button on the home page
The "Resources" drop down menu on our website has a link to "INVESTimate® Platform"
Under "Services" > Buying & Selling Homes
Once you click any of the ways to bring you to the platform, you will see on the top right that you can either "Login" or "Sign Up". When signing up for the first time, we highly recommend checking the box that says you would like to receive investment alerts. This will allow you to receive emails about any off market or "pocket listings," information when new "hot" properties that could go fast are being marketed, and updates on any properties you have added to personal watch lists.

If you adjust to the list view (below), you will see fewer properties but you will see more detailed information about each property. See below. All of this information can be found by clicking on the property, so for now we will just us the Tile View for explanation purposes.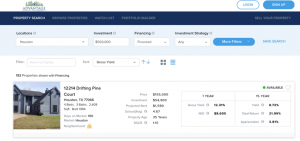 When you sign up for the first time, you will receive an automated email asking you to activate your account. This is just an added security measure to make sure it's you.
Searching for Properties
Now the fun can really begin. The default home screen has a tile view of properties for sale in our default Houston market. If you are interested in searching other cities, you can click the drop down under "Locations" and select any or all of the other markets.
Each tile shows 1 property, a picture of the property, and has some investment summary information.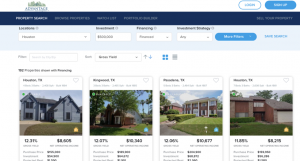 *Download the FULL TUTORIAL below.
INVESTimate® Navigation Overview